Diamond Coatings have developed Visin PPE Face Shields that offer a high level of protection from the airborne transmission of viruses and pathogens. With an enhanced anti reflective coating, our face shields provide industry leading performance.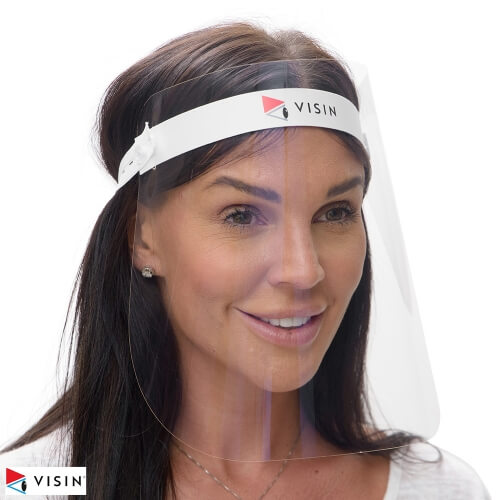 Our Visin PPE Face Shields are fully certified so you can be assured you are providing your team with appropriate protection. We have developed our range of Visin PPE face shields with the suitability of use across many industries in mind, to create a comfortable and safe PPE solution.
Anti Reflective Coated Visin PPE Face Shields
Standard face shields transmit 89% of light through the face shield, which can cause the wearer to see some of their reflection from the internal side of the face shield. On the external side, reflections and glare can also occur.
Particularly for applications where visibility is essential, an anti reflective coated face shield may be a more suitable option. Workers carrying out detailed, intricate work, from production operatives to frontline workers, will benefit from optimal visual performance these shields offer.
By coating our Visin PPE face shields with an anti reflective coating, they offer an enhanced 97% light transmission, resulting in essentially no reflection or glare from either side of the face shield, in all light conditions.
The increased optical performance our AR coated face shields offer allow for both indoor and outdoor use. The anti reflective face shields reduce eye strain for the user, that may be experienced in high ambient lighting.
Please view our range of PPE Face Shields here.
Visin PPE Face Shields
These face shields offer superior comfort, with a fully adjustable head strap that will secure the face shield for long periods of time, allowing for use over the full working day.
Our PPE face shields allow for full head movement and full shielding of the face to offer maximum protection with minimal disruption to the wearer. Medical grade materials are used to create the face shields to ensure adherence to federal standards.
The face shields can be cleaned and reused, providing a cost-effective option for PPE in the workplace. As the face shields are reusable and highly durable, they are designed to last, meaning less waste.
The face shields are hard coated and possess anti-static properties allowing for full cleaning and removal of static dust particles. The hard-coated service increases durability and longevity of this protective equipment.
Both of the PPE Face shields we offer provide you with a comfortable and safe solution for your team.
Feel free to contact us today to learn more.