Touch Screen Distributor
Diamond Coatings have gained years of experience in the manufacture of touch screens, supplying to a diverse range of global industries to be used in a variety of environments, making us a well-established touch screen distributor.
We are a specialist coatings company based in Phoenix, Arizona. Included in our range of coatings is Indium Tin Oxide (ITO). ITO can be deposited onto substrates including polycarbonates and acrylics, thin PET films and glass. ITO itself is transparent and also electrically conductive; in essence making the surface of the substrate it has been applied to conductive.
ITO is used effectively in the production of touch screens, both capacitive and resistive, to determine the point of contact on a device.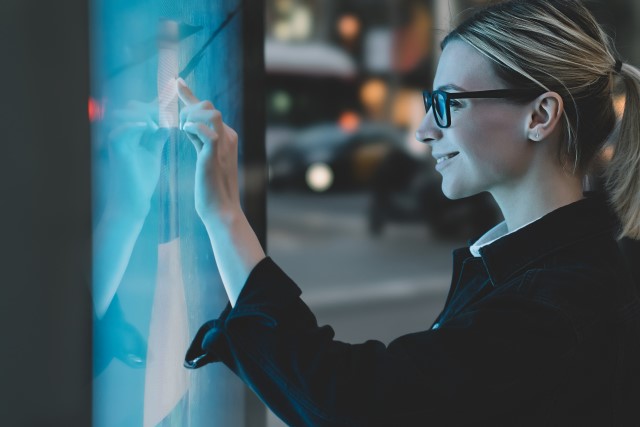 There is a big difference in how ITO is used, but here's a quick breakdown: A capacitive screen will have a thin layer of ITO deposited onto the screen which can register a human touch due to skin having conductive qualities. A resistive screen will have a thin layer of ITO sandwiched between 2 layers of plastic – downward pressure will break the ITO charged circuit allowing the device to register the location of the touch.
Naturally, we are a touch screen distributor of both resistive and capacitive variants.
Applications of Diamond Coatings Touch Screens
Our products have been designed to be durable and reliable in the harshest and unforgiving environments. Diamond Coating's touch screens are perfect for applications including:
Consumer electronics (computers, tablets, smart phones, laptops, etc.)
Medical, point-of-sale (retail) and in-dash automotive displays
Manufacturing/processing, educational and naval/military displays
Cash points (ATMs), switch boards, musical instruments, and many others
Diamond Coatings also supply an extensive range of premium quality products in addition to touch screens:
RFI/EMI Shielding Filters and Heater Windows
ITO, Special Optical, Hard and Anti Reflective Coatings
ITO Glass & Plastic; Capacitive Switches and Microscope Slides & Coverslips
Conductive PET Films & Tapes and More
Industries where Diamond Coatings touch screens are widely used include Telecommunications, Entertainment & Education, Automotive, Aerospace and Aviation, R&D, Imaging/Microscopy & Medical, Advertising/Retail, Manufacturing & Agriculture, Military/Defense & More.
Diamond Coatings Touch Screen Distributor
We can provide touch screens from development to production volumes, and in sizes ranging up to 1m x 1m. The screens can be provided with anti-glare and other finishes as required, and produced on glass or plastic.
Using our index matching technology, we produce capacitive touch screens with the same visible transmission as uncoated glass or plastic and can offer touch screens that are fully shielded and/or feature various other possibly required finishes such as, for example, diverse anti-reflective, special optical and/or hard coat coatings.
To learn more about our touch screens or any of our other products and/or get expert advice/assistance with viable solutions to meet your application's specific requirements, please contact our team of technical experts.