Why Use ITO Float Glass?
Float Glass is the most common form of glass used today, with the Float Glass process in existence for over 60 years. Float Glass is produced by pouring a molten layer of glass onto the surface of molten tin. As glass is lighter than tin, it will always float on the surface.
Because the glass is in liquid form, it will spread evenly across the surface of the tin, allowing for a smooth and uniform finish. The relative ease of manufacture along with its machining flexibility has seen Float Glass become the most prominent form of glass used around the world.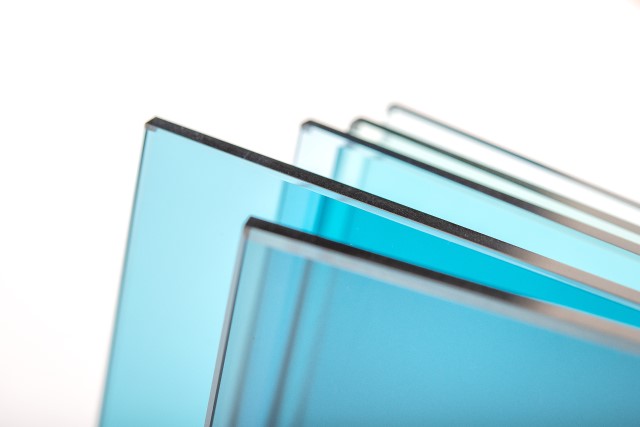 ITO Float Glass
ITO (Indium Tin Oxide) is transparent and also electrically conductive and as such, is utilised in a variety of applications, including smart glass, EMI/RFI filters, solar panels and touchscreens. It can be deposited onto plastics, PET films and glass. Diamond Coatings are a global market leader when it comes to ITO coatings, supplying a large range of products and solutions to a variety of industries and establishments.
Obviously, with Float Glass being the most commonly used of all glass types, there will always be a requirement for ITO Float Glass. Applications include automotive windshields, with a demisting option – provided by the ITO coating running a small charge across the glass surface.
The same application is used in smart glass, low emission glass and even supermarket freezer doors – ensuring the goods within are always in clear view. In fact, this applies to any glass installation that would benefit from heat or an electrical charge.
Another use for ITO Float Glass is within electron microscopy. A specimen no longer needs to have a charge running through it, allowing the specimen to be viewed over a longer period of time – it has been said that the introduction of ITO microscope slides has revolutionised electron microscopy. ITO glass microscope slides are used in educational and scientific institutions around the world.
Diamond Coatings ITO Float Glass Options
Currently available types of OLED Grade ITO Glass include:
SL -P-12 – Soda lime float glass (1.1mm thick) with 135nm ITO; sheet resistivity 12 ohms/sq; 86% transmittance at 550 nm
SL-P-80 – Soda lime float glass (1.1mm thick) with 25nm ITO; sheet resistivity 80 ohms/sq; 86% transmittance at 550nm
Depending on type, full size ITO Coated Glass Sheet OLED Grade ranging up to 400 mm x 500 mm. Precision diced pieces going down to as little as 10 mm x 10 mm are also available.
ITO Coated Microscope Slides – Diamond Coatings offer a wide range of Soda Lime Float Glass ITO coated microscope slides at 1.1mm Thickness
Do you require Assistance?
If you have any queries on our range of ITO Float Glass or any of our other products and services, we are here to answer your questions! Please get in touch, we would be happy to hear from you.